Written in association with
@heavenslion(discord)
@HotSausage
@Adel Wael
@Avireous_Ryx
and
@Teratorn PH
TOC (use the control+F keyboard command and type the
teal
words to skip to the part you want)
Tunes
-playlist of songs selected to set the mood when fighting this force
History of hell
-story of the helhound faction
Traits
-faction traits of the hellhounds
Units:
Hellhound Legacy
-units created by the hellhounds prior to factions era
Factions-
factions era units
Buildings
- self explanitory
Effective countermeasures
- the general gist of what does and doesnt work against hellhounds
Tunes:
https://www.youtube.com/playlist?list=PLqt8u4ACgjoou9-HaY09wbfeYnPVN_uLs
-------------------
History of Hell
The HellHounds started soon after the collapse as a group of survivors hoping to restore humanity back to before the collapse.
this would soon change however during
Operation:Shockwave
when Kronos takes control of the HellHounds following their discovery of pre-war weapons, giving them access to shock technology before any other faction on the world map
under Kronos' leadership the hopes of the HellHounds turn to a cultish following of the old world's technology; while also increasing in ideological militarism by actively training troops for electro and gurilla warfare.
after securing his control over the hellhounds Kronos begin speaking with the leader of the armored corps to mix the infantry and anti vehicle capabilities of the HellHounds and the vehicle production ability of the Armored Corps to rapidly expand both factions; however while many of their veterans are put into elite soldier programs; being that their armies are primarily mass produced they lack the quality to defeat the battle hardened forces of the commander in a front on engagement and are beaten back despite victories elsewhere on the map in
Operation:Crossfire
this defeat humiliates Kronos causing the HellHounds to improve the quality of HellHound equipment and begin the search for more pre-war technology
eventually after months of scavenging their boarders for anything they could the HellHounds discover a cache of hovertech and oldworld satellite communication remnants.  
this culminates into
Operation:Devil's Grip
where HellHound forces are bolstered by Valkyries with improved technology over other factions, the hover tank, and communications spires allowing HellHounds to greatly improve their range of influence as they build spires across the map, naturally many of these fell into the commander's control and the HellHounds were beaten back into being a minor nuisance reduced to raiding parties traveling from another sector in the hopes of establishing a foothold.
over time the HellHounds would come to meet the Free Forces Coalition while the merc group was developing an improved titan from the scraps of Sasha's older works, impressed by the machine the HellHounds steal the prototype and finish it's development for their own use. with their new found toy Hellhound raids violently shift in frequency in the sector as the Omega Titan decimates Free Forces and Survivor bases.  in
Operation:Omega
due to the HellHounds no longer using a conventional strategy and are simply a nomadic fortress sieging everything in their path that doesn't submit to them the Commander,Survivors, and free forces are forced to change their tactics in order to hunt down the HellHound pack whilst they carry away wreckage to an unknown location through
Operation:Stormfront
After 2 months of hunting the Commander finds the Hellhound's primary fortress and lays siege to bring down both it and the Omega Titan once again forcing the hellhounds out of the sector in
Operation:Dogs of War
with the omega titan dead and Kronos dead the hellhounds are once again dealt a crippling blow and are left to wander the wastelands in search of scraps.
eventually they would return to the site of the omega Titan's crash to reclaim kronos' body,it is here that one of their more influential members would take the mask of kronos and turn it into a title marking the leader of the hellhounds rather than just a man, it is under this new Kronos' leadership that the hellhounds would begin to work with [story link not revealed] and Arctech to [also unclear],
 however when the leader of Archtech saw how the hellhounds were using electricity he broke off from their alliance stealing a high value prototype, taking on the name "Stormchaser", this caused the conflicts in
operations thunderstorm, storm's eye,and stormchaser,
as the hellhounds are forced to invade the sector once more in search of stormchaser as he allies with the survivors and corpus through Skipjack,RUBI, and Leonard.
however in this manhunt the second kronos is slain, forcing the hellhounds to retreat without stormchaser.
----------------------------
Traits
Hell-hound buildings do not create last stand defenders, making them immune to plague and busted.
---------------------------------------
Units
Hellhound Legacy:
Shock Trooper
basic support units to apply the shock effect to a single target in the case of the trooper of clustered units in the case of the tank
Hover Tank
first tank with move and shoot, immunity to mines, and the ability to hit both ground and air.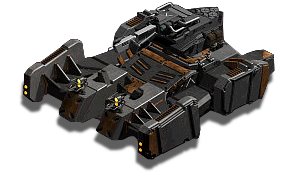 Hydra,
 A highly customization unit capable of changing what its resistant from and what its damage type is however their area damage is least effective due to the hellhound's inherit weakness to area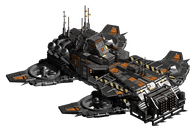 The Omega Titan
is a large aircraft that can spawn up to 24 drones, it also has a heavy missile barrage and laser cannon equipped to the main ship, however targeting the main ship should be able to result in a quick victory, especially if done by technicals or hades, or sharpshooters
Old Boss:
Kronos
can shoot air
has moderate damage
evolves at 75% health
slow rate of fire
weak to high health units
Badass Kronos
does slightly more damage in this state
otherwise the same
Factions:
Infantry
Surge
~500 range
Burst Damage type
the main infantry of Modern hellhounds, it is only able to hit ground units but can engage 6 targets at once and apply the shock status effect,  but have relatively low health
best to engage these with light vehicles and infantry as they are immune to shock and thus are able to dispatch them with relative ease
Status effects:
Vulnerable to:napalm,corrosion, turncoat,smoked, and marked
Immune to: cryo,concussion and plague (and shock/scramble)
Lightning
Range=500
Burst Damage type
The Hellhound Anti-air Trooper that uses a single target laser that discharges after ~1-2 seconds of charging up.
Status effects:
Vulnerable to:napalm,corrosion, turncoat,smoked, and marked
Immune to: cryo,concussion and plague (and shock/scramble)
Armored
Harvester
~710 range anti-ground artillery tank that disables Darkstorm aura in a manor similar to the lights on Spec Op.
Area Damage type
after hitting an area the projectile will leave behind an AOE for 1 or 2 seconds that deals damage to whatever is standing in it aswell as applying the shock status effect.
of the four units weve encountered so far this is by far the most dangerous as sustained fire from a harvester can deal significant damage, if possible engage with air or scramble.
It's projectiles can also be dodged with a speed of 4+ so while not ideal it can be engaged from the ground aswell
Status effects:
Vulnerable to:
corrosion
,
marked,smoked
,
turncoat
,
cryo
,
napalm
.
Immune to:
concussion
,shock, scramble
Airborne
Vortex
~500 range
Targets ground and air
Burst Damage type
The Hellhound main aircraft that targets up to 6 ground units and applies shock similar to the surge but this one flies.
it is notable that vortexes do generally a lot more damage than a surge does and are thus the most threatening unit in this faction
Status effects:
Vulnerable to: napalm,marked,turncoat,scramble
Immune to: cryo,smoked,concusion,plague,
Boss Units:
Kronos (NEW):
just a tank, he moves fast but doesn't do much else.
Buildings
Banners
floaty pylon things
Hellhound Command Centers.