This is NOT the forum for War Commander web. For that forum, go here:
https://www.kixeye.com/forum/categories/war-commander
War Commander: Rogue Assault is a new mobile title from KIXEYE. Any topics created that are not about WC:RA will be moved to the appropriate forum.
You can now earn certain critical components quickly by participating in Daily Raid. From your base view, tap on the Daily Raid button to see 3 different bases available to attack, with scaling difficulty and prizes. Every 24 hours, a new set of rewards will become available.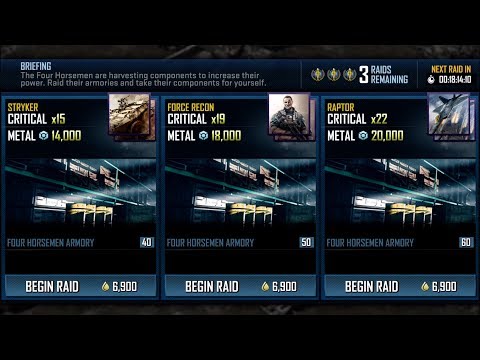 https://youtu.be/63ico6xigaI
While in your base view, look for the Daily Raid button along the right-hand side of the screen. This opens a window that displays 3 different base types, with the easiest Armory to defeat on the left and the most difficult to beat on the right. Each attempt to attack a base will require an upfront resource cost, so be sure you're ready for battle before you tap on the "Begin Raid" button.
Daily Raid resets every 24 hours. You can attempt to attack the bases as many times as you like, but you can only earn 3 victories within that timeframe. Fortunately, you can choose which combination of missions that you want to use your 3 victories for. For example, you could use 2 victories on the first raid and one victory on the third raid for that day.
It's important to note that each time you defeat an Armory base that day; the resource cost to attack it and the critical component payout will increase.
Upon completing your 3 victories, the Daily Raids button will disappear. But don't worry, it will appear again when the raids reset.