Greetings, Captains!
This release includes a new objective and research system called Forsaken R&D. There is also new Forsaken Mission content available starting today. Sector Threat Level: Orange is also now available.
Forsaken R&D
Pirates! A new objective system is available for players who have upgraded their Outpost to level 6 and are level 50. Players who have not met these requirements will still have access to the older objectives.
Forsaken R&D is a system where players can complete up to 15 objectives along a linear progression to unlock bonuses, boosts, and items. More objectives are scheduled for release in the future!
You can view your objectives by clicking the pill in your HUD or clicking your Outpost.
Completed portions of the objective will be noted with a check. You may hover over any reward or locked objective to see the specifics.
In the Research And Development window, you will see a progression tree with various objectives to complete from Harlock, Brennus, and Zoe.
Notice how the costs for the objective reward is grayed out in the Research & Development window if any of the subtasks are incomplete. Once all subtasks of an objective are complete, this section will no longer be grayed out and you may begin researching this reward.
There is an associated Uranium cost for starting research.
Starting research will begin a timer. Once this timer has completed, you will gain the benefit of this reward. All boosts are permanent and take effect immediately upon completion of the research. You can also opt to instantly research any reward instead of waiting for the timer to complete.
Once complete, you will see a pop up showing the reward you have unlocked!
You may always review your rewards in the Bonuses tab.
Once an objective is complete, the next objective on the tree will unlock and you may begin completing the subtasks for the next objective. Previously completed subtasks will be marked in the objective window and noted in the progress bar below the icon.
You can complete subtasks for other objectives while you are researching. However, you can only complete the next objective's subtasks on the tree. So, if you are researching the 3rd reward, you can only work on subtasks up for Objective 4. Objective 5's subtasks would be unavailable.
Current rewards include improvements to critical chance, VXP gain, ship build and repair reductions, blueprint shards, and rogue crews. Stat boosts, ship repair reductions, ship build reductions, and VXP gain boosts stack additively and are permanent!

PVP & Forsaken R&D
If you are currently researching a reward, your base will indicate a skull icon:
If you attack a base that is displaying this icon and destroy that player's Outpost, you will increase their R&D research time by 8 hours. If you are also researching R&D at the time of the attack, you will increase their research time by 8 hours and reduce your research time by 8 hours. Remember: to participate in R&D, you must be level 50 and have upgraded your Outpost to level 6.
New Forsaken Mission content
Four new prizes enter the Forsaken Mission prize list this week. Reminder: due to timing conflicts with the December Event, this week's Forsaken Mission begins at 1:05pm PST Thursday. There have been some minor changes to the prize list. Be sure to check out the prize list here.
Let's take a look at the new prizes.
Phalanx Anti-missiles IV
This ship mounted countermeasure weapon targets and obliterates incoming missiles and UAVs.

Explosive System IV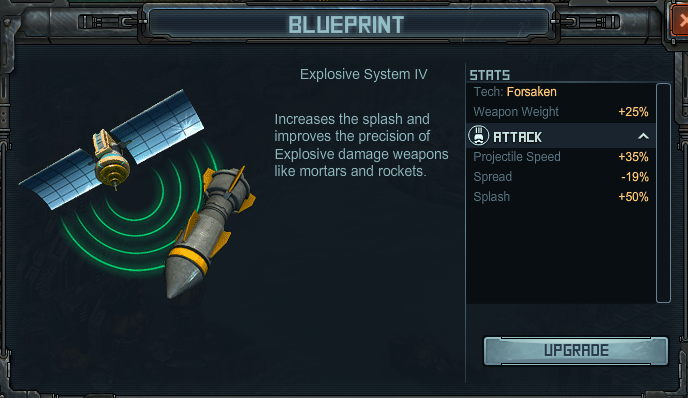 The Explosive System IV reduces spread, increases projectile speed, and increases the splash of salvo and multi-shot weapons, making them more accurate.

UAV Battery
A perfect addition to the new Draconian Bomber UAV D100-S, the UAV Battery increases the Chain count and the Splash of UAVs. Chain count is the maximum number of targets a UAV will chain to before returning home.
Oil Slick
Similar to the Combustion Trigger, this special can be equipped to water buildings to create a patch of oil spillage when destroyed. This patch of oil will cause ships in the oil field to lose turn speed but increase movement speed.

Sector Threat Level: Orange
Defeat Draconian Armadas to move the progress bar from Yellow to Orange. Draconian Uranium bases will lose damage protection once the Sector Threat reaches Orange status.
Click on these bases to see the attack plan for these targets!
The Draconian Uranium Base is a cooperative target. Each perimeter can be attacked by up to two players. Multiple players may attack each perimeter simultaneously.
The internal layout of the base is a sprawling expanse, armed to the teeth with Draconian tech. These bases aren't for the weak of heart, Captains!
Draconian bases are the only targets that provide sector points while within the Orange threat level.
Draconian Uranium Bases stay un-bubbled until destroyed or the sector returns to a lower Sector Threat level.
Bubbled Draconian Uranium Bases will un-bubble every 15 minutes after being destroyed while the sector is orange.
To complete a Draconian Uranium Base, all perimeters must be defeated before the time runs out and the perimeter repairs. To defeat a perimeter, all priority targets must be destroyed.
Destroying buildings will reward Uranium and defeating a perimeter will reward an additional Uranium payout and possibly blueprint parts. Blueprints parts drops are similar to Scourge Vanguards: only one participant may earn a blueprint part; blueprint parts are weighted toward the player who deals the most damage; to be eligible for a blueprint drop, you must have dealt at least 5% damage to the target.
Each perimeter is worth an amount of Uranium upon completion. If all perimeters are defeated before the target fully repairs, all participants will gain a significant bonus of Uranium as well. You may participate in any number of the perimeter attacks and gain a larger Uranium bonus for each perimeter you secure.
Once the Sector Threat reaches the top range of the Orange level, the decay rate becomes increasingly aggressive. This means it will be harder to maintain the threat level at Orange.
New blueprints:
All new Draconian Uranium Base blueprints have 4 blueprint parts. Once all four parts for any blueprint are collected, the blueprint may be constructed. 
Alloy Panels CM
Alloy Panels XM
Alloy Panels MR
Frontline Platform Z-U
Zynthium Shells
Bug fixes & tuning
Bomber UAV D100-S will now properly deal damage to detected submerged targets.



Fixed a case where a fleet that was being repaired on the world map could be attacked by another player.
Crossbow I: From 20h 20m 22s to 3h 44m 42s.

Crossbow II: From 2d 6h 48m 38s to 5h 47m 15s.

Crossbow III: From 6d 22h 57m 51s to 15h 8m 59s.
Torrent Missile I: From 6h 32m 56s to 3h 44m 42s.

Torrent Missile II: From 11h 37m 55s to 6h 7m 41s.

Torrent Missile III: From 19h 22m 34s to 9h 11m 31s.