Hopefully by the time you get done reading this you will be able to radically change the way you fly for the better.    Im going to try to walk you through the steps of setting up a good formation during battle and then try to teach you a few things about strafing.  Setting up formations usually takes up the first 10 seconds of every battle and determines the whole outcome. 
The first thing you have to learn is how to strafe.   You put your cursor where you want your ships to go and you right click and they will fly there while MAINTAINING their facing.   Moving away from your enemy while still facing them and firing is the core of battles(mostly). 
As a newb you probably figure the best way to strafe away from the enemy is to move straight back.   You would be wrong.   The more you are facing away from the enemy the faster you can strafe.   However with most ships you are restricted by how far you can turn away from the enemy by your ships fire arcs.   Strafing away from the enemy without being able to shoot will just get your murdered. 
So after you master the very basic strafe command of right click, you have to learn the more advanced technique of Right Click + Drag.    Putting the cursor someplace, holding down the right mouse button and dragging the mouse in a direction and then letting up will make your ships race to that spot and then turn to face the direction you chose.   Right click+Drag looks like this: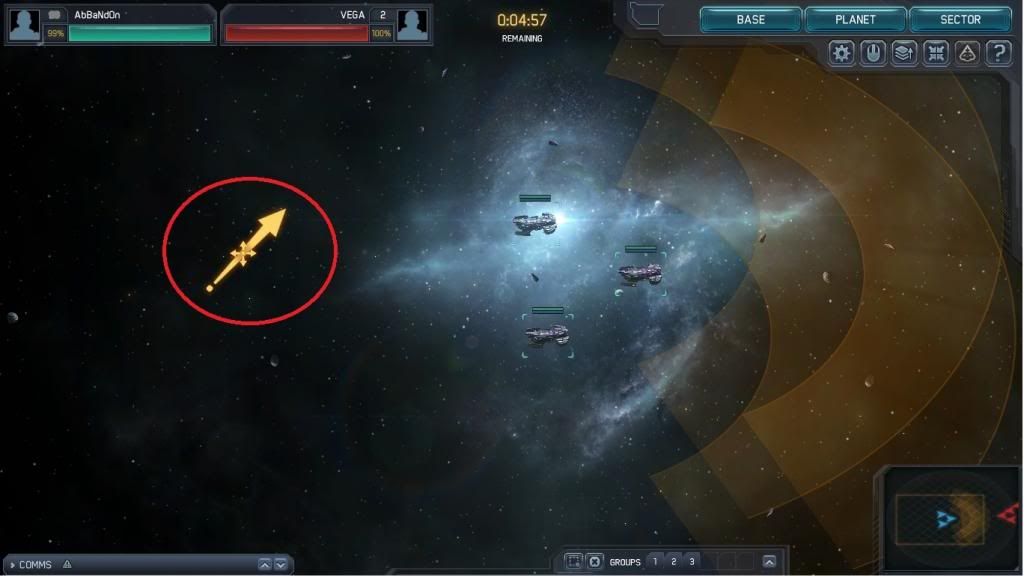 The yellow dot is where I held down the right mouse button and then I dragged my mouse up and to the right which is represented by the arrow.    Now after I let go of the right mouse button the ships will race to that spot and face up and to the right like this...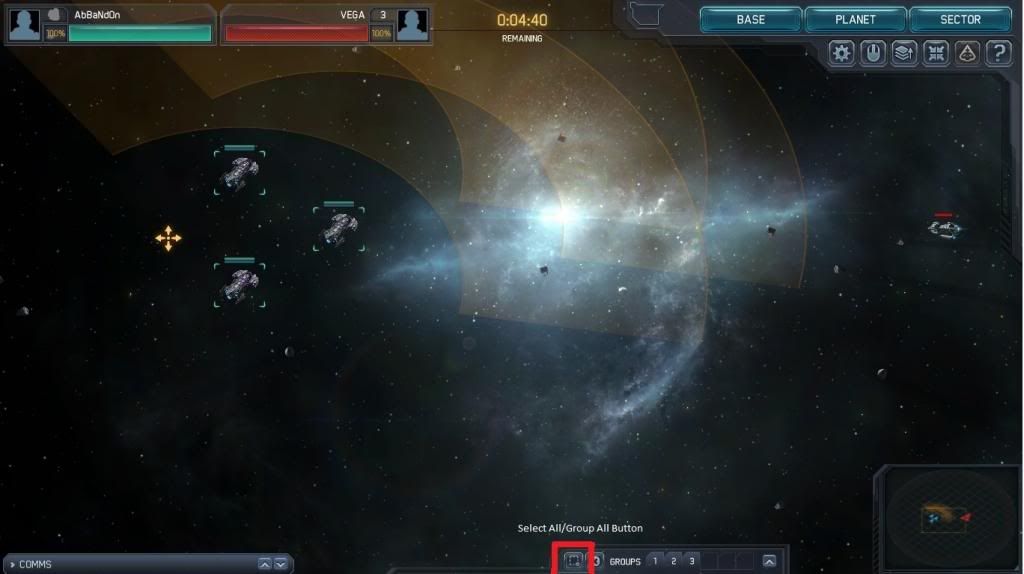 That's what I call setting the angle.  Very first thing I do in a battle is set my angle so I can reform my fleet into a line and then begin strafing.   In that picture the enemy are coming directly from the right.  So I will be able to catch them in my fire arcs while strafing to my left.   Forming lines is the tricky bit because you have to take control of individual ships and move them.  Since you want to move away from the enemy you want to move your forward ships into a line with your furthest back ship.  You don't want to move the ships from the back up to the front.   To move ships you left click on a ship and then right click where you want them to go.  Do not wait for the first guy to get done moving, you don't have time.  Click on the second ship and move him into line also by left clicking on it and right clicking it into your imaginary line.
Now look at the pic above and the button inside the red box.  That is the "select all"/"Group All" button. After you finish repositioning your ships you need to go down and slap that to gain control of whole fleet again.  If your fleet consists of all the same type of ship you can also just double click on a ship and it selects all ships of the same type.  I use the button though.   The following pic shows two things...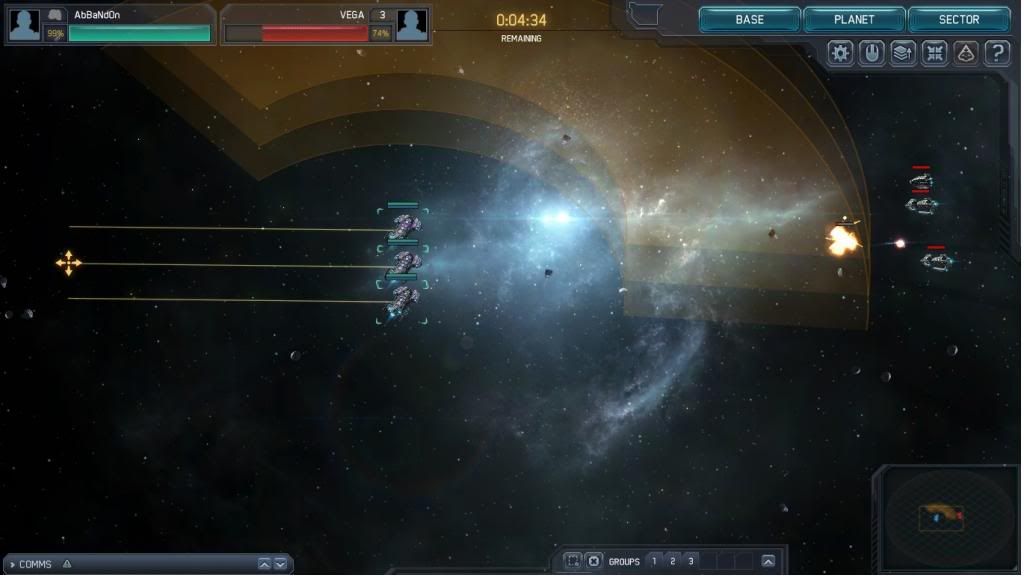 The first is what a Line should look like.  The second is the final part of battle.  Once you have your crap in a line with the proper angle the only thing left to do is strafe AWAY from the enemy.   You will dodge their fire and it will take them longer to catch up with your ships, all while your blasting them to pieces.  To strafe away you just move your cursor way behind your fleet and click the right mouse button.   Your ships keep their facing but move away.   When you get good at strafing away you can start strafing towards the enemy if they are far away and then strafing away once they get within weapons range.  
Now how your fleet approaches an enemy fleet changes everything.    It will change how your line will have to form, and it will change what your angle should be.   I made this pic to show the various ways you can enter battles...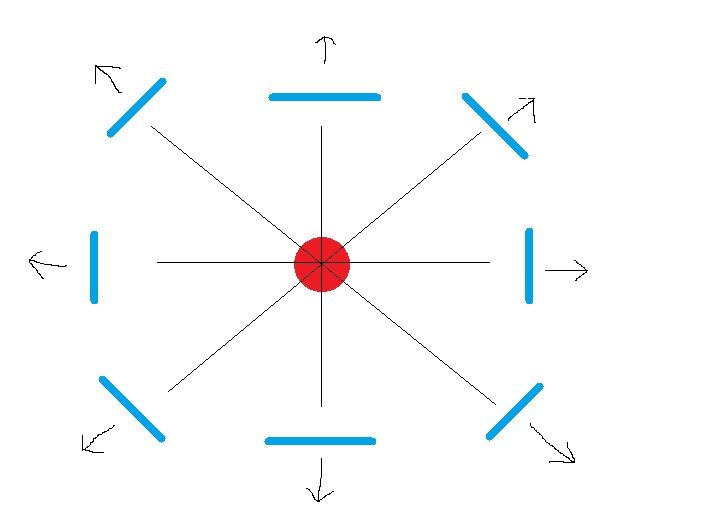 The red blob in the center is the enemy fleet.   The blue lines represent where your fleet is and what your line should look like.  It also shows the direction you should be strafing away from the enemy.   The easiest way to approach an enemy fleet is from the direct right or left.   If you go back up to the previous picture you can see my ships in a vertical line strafing to the left so the enemy was directly to my right.    If you attack a cargo fleet directly from the bottom, look at the bottom blue line...  Its totally horizontal instead of vertical and instead of strafing to the left I would be strafing down.    If you attack fleets diagonally that is a real pain.  You have to make your lines diagonal and setting your angle is really hard.  If I approach something slightly diagonal I just form into a vertical line and kinda strafe around the enemy so they are directly to my sides, but you gotta be careful with that. 
Ok all of the above usually happens in the first 10 seconds of battle and usually only requires like 6-8 button clicks.  Set angle 1, reposition into a line 2 per ship,  slap group all button 1 click,  begin strafing away 1+ clicks.     Practice practice practice.  As you go higher up the food chain enemy fleets will be rushing you and be on your **** in no time so you have to be able to do it quickly.
-----------------------
The next thing im going to try to teach you is the difference in strafing between Frigates(Harriers/Talon/Nighthawk) and Cruisers(Genesis/Exodus/Revalation).   As you can see in the pics above Frigates have 135 degree fire arc.   So the max angle your going to want to use is 30-40 degree's to the left or right(otherwise they cant shoot).    Cruisers have 270 degee fire arc.... 
Now remember what I said about the more you are turned away from the enemy the faster you can strafe???   Because of the cruisers fire arc you can turn 110-130 degree left/right and strafe away from the enemy while still being able to fire.  Most people use 90 degree cuz they are lazy and have good thrusters.   As a newb do the extra 20-30 degree's.   Cruisers are slow as dirt and you need every second you can squeeze out to keep the enemy off you.  
To represent what im saying about being able to strafe faster the more you are turned away from the enemy I took this pic...
Harriers(the ship in all these pics) have no special slots so they have no thrusters.  These ships all have same strafe speed.  They all started in a straight vertical line with the enemy far to the right.   I told them to strafe left.    As you can see the middle ship is at a 90 degree angle and is moving faster than the ship at the top that has a 30-40 degree angle.   Frigates will be using the top ships angle so they can fire.   But now look at the bottom ship.   He is faster than both the middle and top ship because he is facing away from the enemy at 110-130 degree angle.   That's the angle cruisers can take while still being able to shoot at stuff.  Problem is Cruisers have much slower strafe speed than frigates and have to be augmented by strafe thrusters.   The point is if you want your cruisers to strafe as fast as they can use the bottom angle.
I think this covers pretty much all the basics newbs need to know to start kicking ****. 
After you get this stuff down good then you have to learn **** the stuff that is chasing you as you strafe away and then once that's all dead breaking off a single ship to go kill longbows by strafing around all the shots.   After you master fighting longbows then you can start messing with Rancor.  That just involves strafing towards them until your fire arc touches them and then strafing away to dodge their fire.   And that's pretty much it for cargo fleets.
Fleet versus Fleet with other players is a whole other ball game and something I don't have a lot of knowledge of.