Im relatively new.  Didnt get to play with vega's before june 2013 patch so they are harder now.  Just gonna give my observations on them for people just breaking into exodus cruisers/talons as I try to tackle these beasts...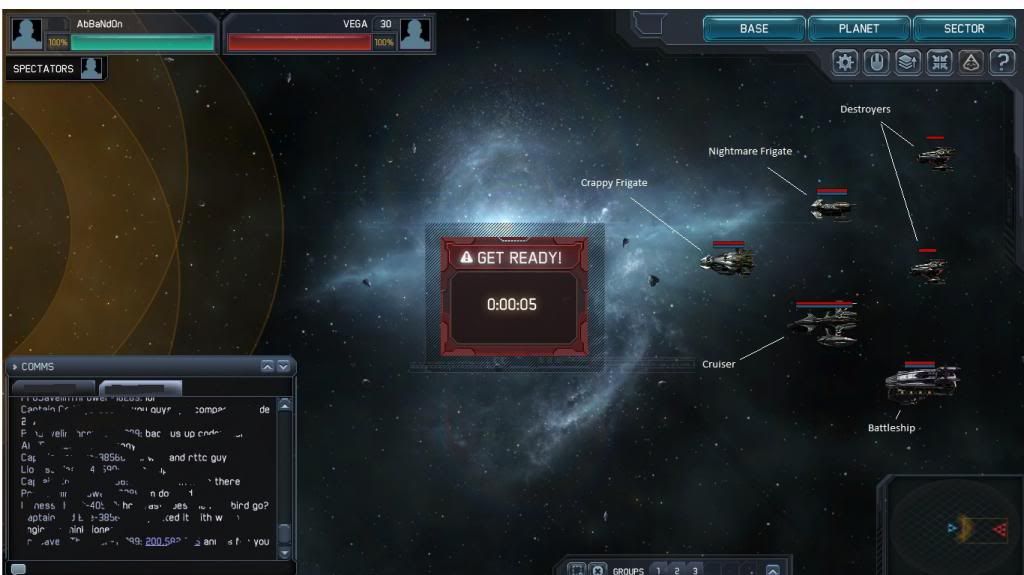 My Current Exo fleet that I use for killing planetary 27's is x3 exo w/ x2 torp1, x1 gauss2, strafe3.  My Talon fleet is x3 w/ x2 torp1, strafe3
The crappy frigate uses lasers and is semi fast and tough like an exodus cruiser from a 25/27.  The nightmare frigate is the problem.. that little **** is fast and uses scatter.  He has no problem catching up to you if you use strafe3.   The exo with strafe3 are to slow to evade the scatter missles even if you have them angled away 110-130 degree's.   Talon can out strafe the scatter barely with strafe3 but they have to worry about the crappy frigate and the cruiser closing to laser range.
The cruiser is pretty fast also.  Its pretty difficult with strafe3 to evade the two frigates and cruiser.   I wouldnt even attempt this with only 3 exo.  I doubt 4 is enough enough so just wait until you have you a lv7 shipbay and can wield x6 fleets.   
Talon on the other hand...if you have 4 Talon you might be able to win if you are smart with target selection.  Go for the crappy frigate first, he can get inside your torp range and light you up with lasers first.   After the Crappy frigate is dead switch to the cruiser.  He should also be able to get inside your torp range but hopefully you have time...  
While your taking those two ships out you will be strafing for your life to evade all the scatter from the nightmare frigate.  As scary as he is he does not get inside your torp range and he cant really hit the talons so save him for last of the 3 blitzers.  
After that it should be cake to wipe out the battleships and kill the desotryers.   
30s have around 550k res in them including anti matter.  AM fleets planet side are MUCH easier.
Possable ways to make this easier that I see is dont bother until strafe4 or wait until you can wield x6 ships at once(lv7 shipbay)
Was thinking of adding a 4th exo but now that I think about it maybe a 4th Talon is the better way to go.