MAKE FRIENDS, THEN WAR!
Take some time to find an alliance, or make your own, because there is a new co-op target coming! We have been working behind the scenes to create a new Dreadnought target for you and your allies to battle together. This new challenge will be intended for multiple players to tackle together so find teammates now and prepare to take on  
Obstruction.

 This month brings the specialist hull, The Hook. This Retrocitor hull can scramble targeting systems drawing enemy fire to itself to help cover its allies. Whenever the Hook deals damage there is a chance the enemy will become Enraged, gaining the new Enrage status effect, and focus its attacks on the Hook instead of other, more threatening allied ships.     
Gain Enrage, and the Hook, August 11th in Synchronization 3PM PDT/ 10PM GMT





Hook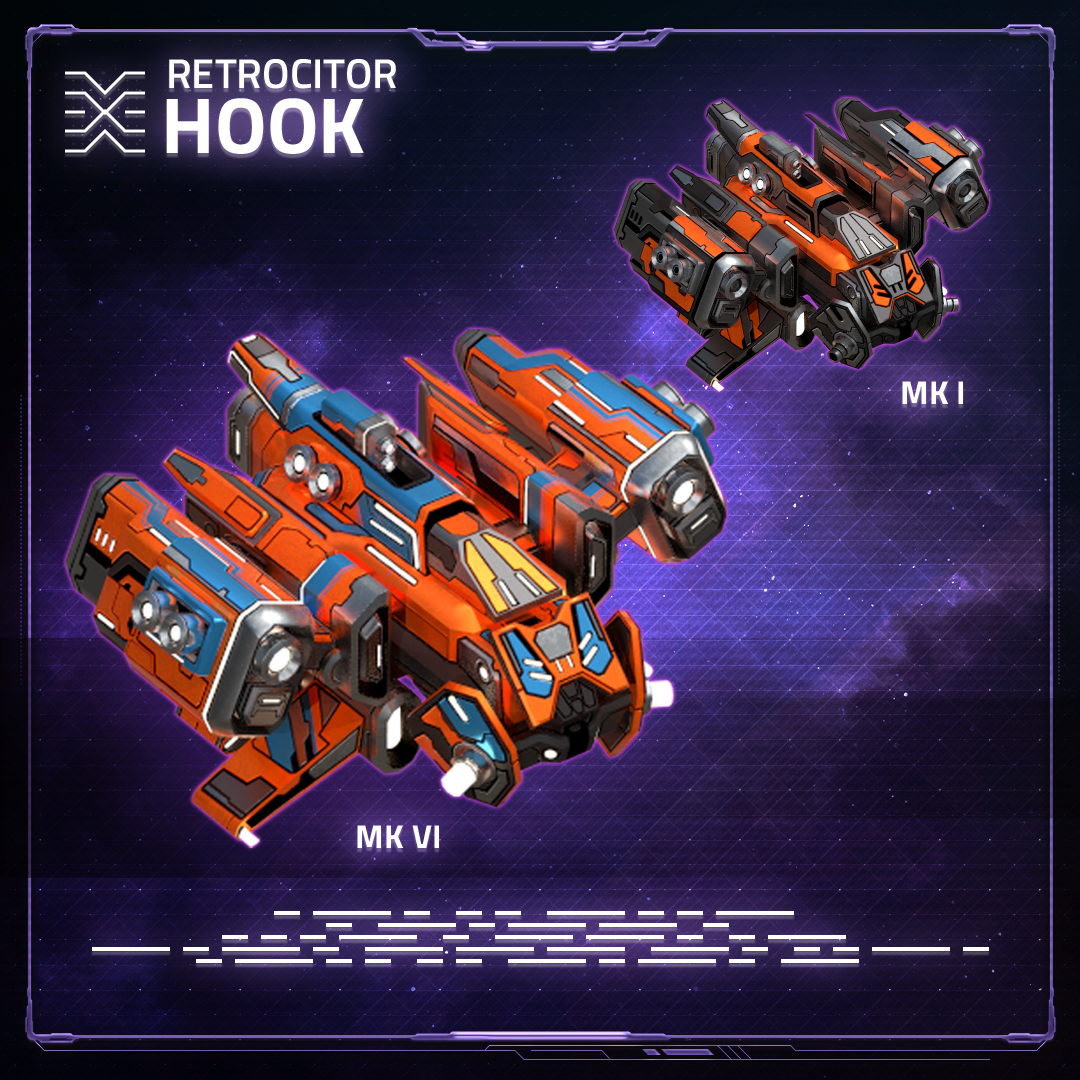 The Hook is designed to deceive enemy hulls into thinking they are a
bigger
threat than they truly are, forcibly drawing enemy fire and allowing allied hulls to break through their lines. Utilize the Hook to distract and infiltrate!




Charge Beam Turret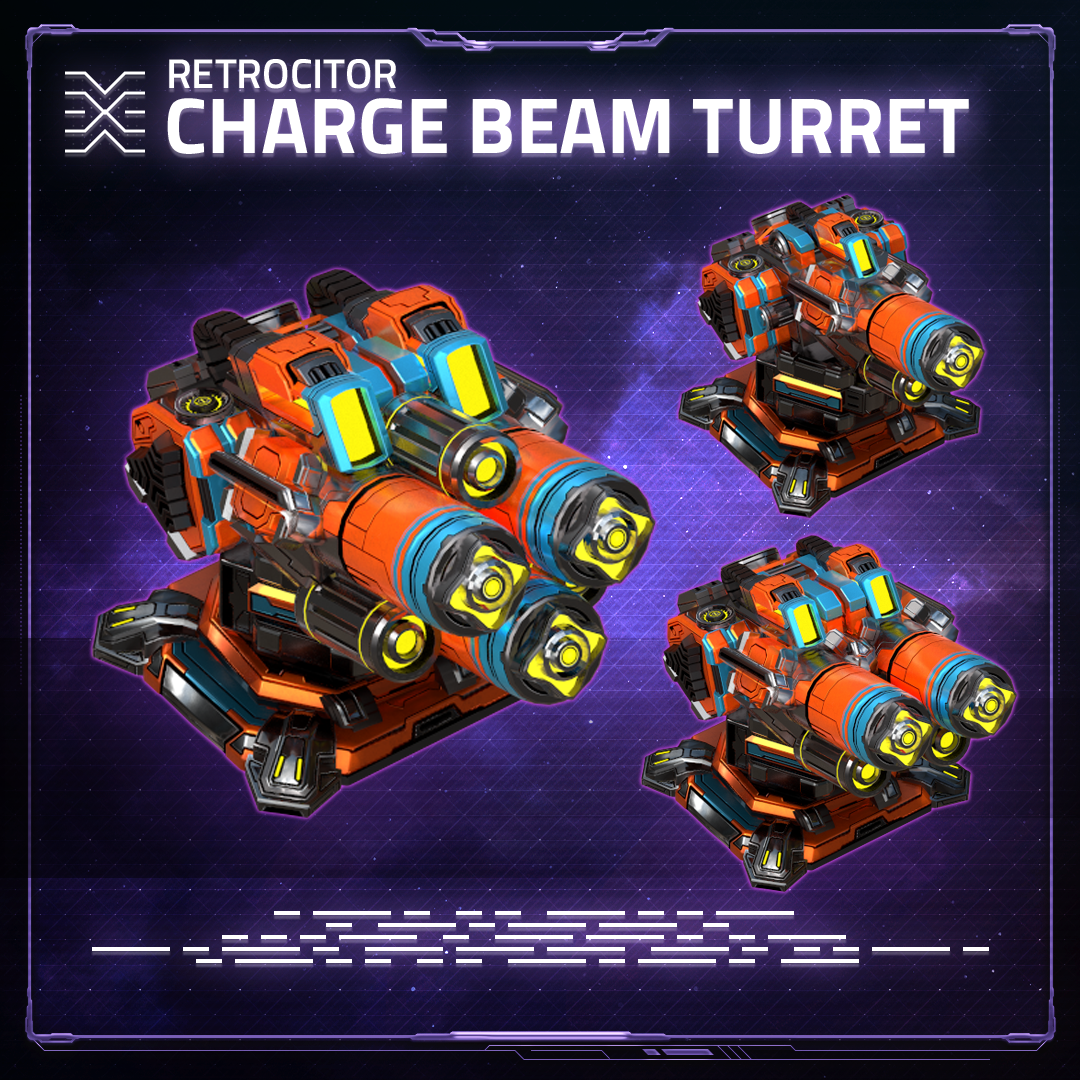 Bring the Charge Beam to your base with these repurposed weapons. Boost your base defenses with this Energy turret. 




Retrocitor Dissipators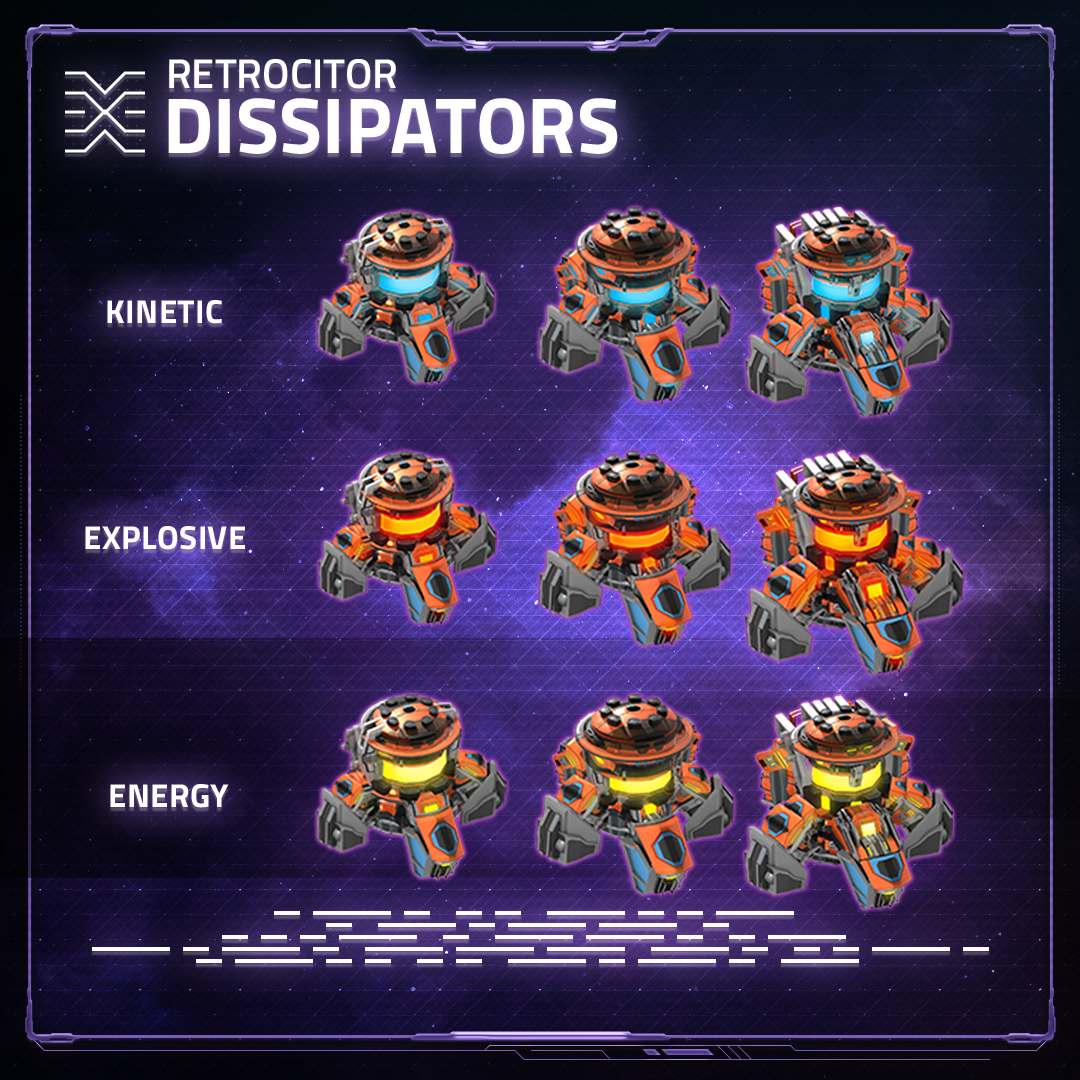 The Retrocitor Dissipators are a new set of base dissipators, all of a single level and be featured as RIs to be used and refitted to multiple modules as needed. These resistors have a single damage type resistance (Energy, Kinetic, and Explosive). These resistors will feature the high resistances found on Rebel resistors while improving upon weight efficiency.  




Scatter Vulcan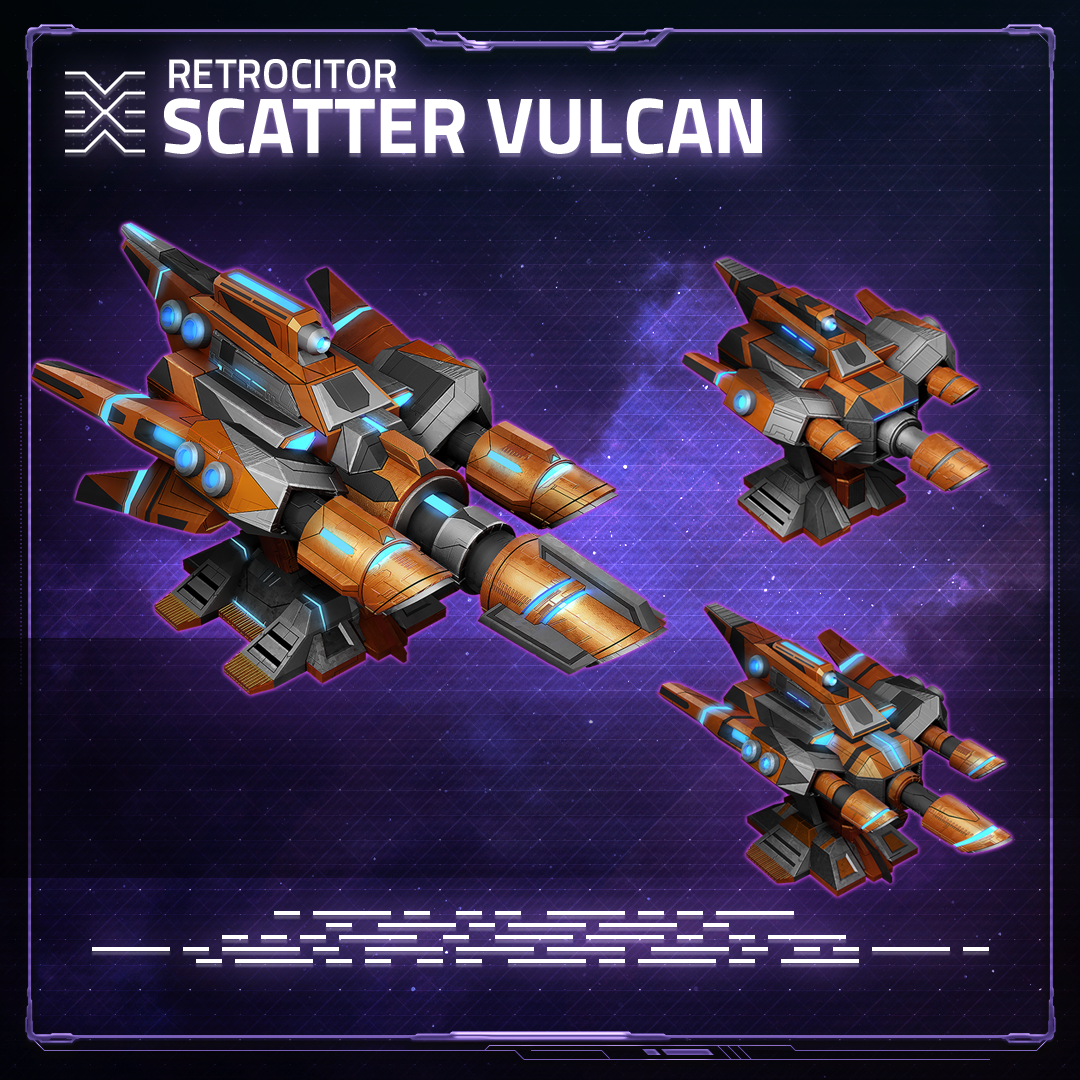 It's fast firing, short-range Kinetic weapon. It's the Scatter Vulcan! With a high rate of fire, burst, and projectile speed, use Scatter Vulcan to shred enemies from close range. Armed with piercing projectiles, it makes quick work of swarms and spawned ships.    




Experimental Salvage Set 7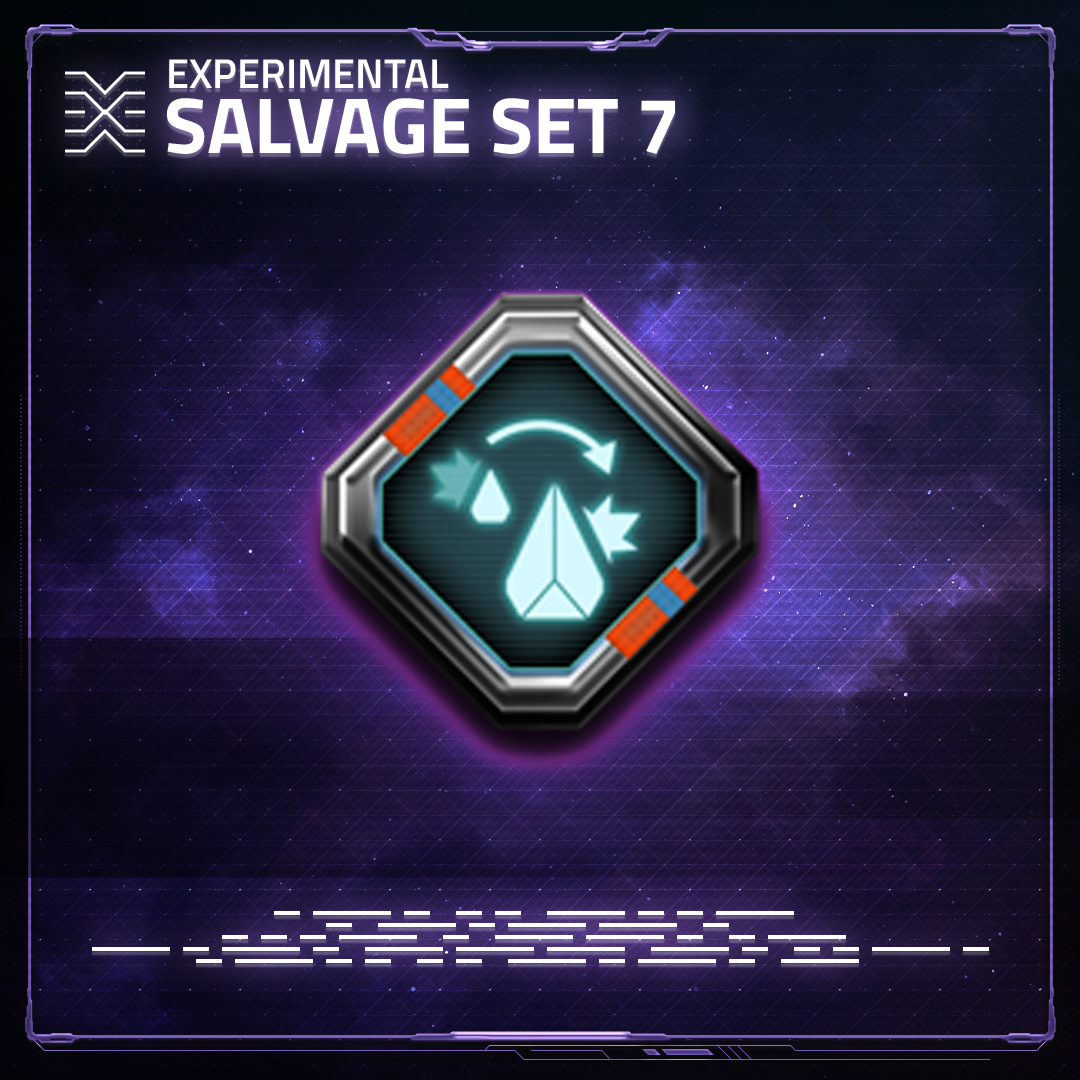 | | | |
| --- | --- | --- |
| | Name | Deflection Protocol |
| | Description | While equipped, the hull can absorb damage being applied to nearby friendly ships onto itself. This is triggered by a hull losing its defenses within the arc of the equipped hull. |
| | Flaw (Martyr System) | When the Field is triggered, it reduces the dps of the hull. |
| | Trigger Value | When Field is activated. |
| | Damage Redirection Amount | 100% |
| | DPS Reduction | -50% |
| | Duration | 5s |



Retrograde
Begins:
Thursday, August 4th @ 3PM PDT
Ends:
Monday, August 8th @ 3PM PDT  
Synchronization 
Begins: Thursday, August 11th @ 3PM PDT Ends: Monday, August 15th @ 3PM PDT  
Mobilization
Begins: Thursday, August 18th @ 3PM PDT Ends: Monday, August 22nd @ 3PM PDT
*20% Ship Build Discount (24 hours)
Decimation
Begins: Thursday, August 25th @ 3PM PDT Ends: Monday, August 29th @ 3PM PDT *20% Ship Refit Discount (24 hours)  
Server Downtime
Begins: Wednesday, August 31st @ 10 AM PDT Estimated Downtime: 2 Hours 

Retrocitor Base Resistors "Dissipators" now displaying HE3 cost
Data Changes:
Point Defense Drones deal more damage to Squadrons and have a shortened spawn timer.
Superheated Rounds' damage threshold has been updated, requiring less with each Mk. level and now apply a flat stack value.
Modified Targeting Systems is no longer applicable to Carriers.
XP Values for the latest Base Fields have been significantly raised.
The AI for the Hammer has been updated.