Good morning, Captains!

This release introduces the Ship Stat blocks for all components and hulls. This release also includes major changes to both the Forsaken Mission and Rockets, as well as bug fixes & tuning. There's a lot to look at, so let's get into it.
Stat Blocks
A few months ago, we polled the community on a new display for components and hulls in the game. Previous iterations of stat blocks were clunky and unintuitive. Thanks to the feedback we received from you, we were able to implement a new, cleaner, clearer stat block. Voila!
Let's look at a Crusader as an example:
By hovering over a ship in your Dock or Blueprints, you will see a simple version of what components and basic stats are available on this ship. However, for an expanded view, simple hold the Shift button.
This view has more information, including Attack values, Defense values, Movement, Weapon ranges, and Miscellaneous special abilities.

If we look at the ship from the Shipyard, Inventory, or Refit Window, we can see these stat blocks directly.
Each category is collapsible, for easier navigation, by clicking on the chevron, as shown below:
You can turn the 'Advanced' tooltips for the ship stats on and off in the General section of the Settings under Advanced Tooltips.
Forsaken Mission Changes & New Content
A new format and new prizes are available in the Forsaken Mission. There have been many changes to the FM this week, so be sure to read up about it here or watch the video below!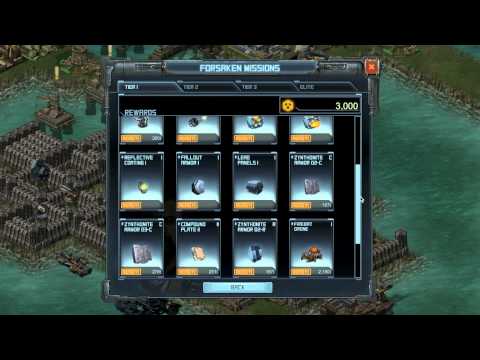 https://www.youtube.com/watch?v=P5mn2jSh1JQ

XL-size Rockets/Rocket Rebalancing
All Launch Pad rockets have been re-tuned across the board.
New stats have been added to the descriptions of each rocket in order to clarify suggested uses.
We have also split the Pinch category of rockets into two separate types: Quick Pinch and Long Pinch. Quick Pinch rockets are fast-activating rockets with a short stun duration with a moderate blast radius and are good vs enemy fleets. Long Pinch is a slow launch rocket with a longer stun duration and is best used against enemy buildings.
Any rockets already in a player's inventory will be altered to fit into these new categories.
We've also added a new XL-sized rocket for each type of rocket. These rockets will need to be researched in the Research Lab.
You can review the new Rockets and their rebalanced counterparts here.


Bug Fixes & Tunings
Corrected the positioning of weapons on the Omega Behemoth hull sprite so that they would not have a chance to appear off of the surface of the hull.

Fixed an issue where the player's profile picture would fail to load after leaving combat.
If you have technical questions, please submit a ticket here.
Having trouble submitting a ticket? Try this 
link
.
Not sure about the 
rules
? 
I cannot discuss your account ban. Don't ask.