written with
@Adel Wael
@HotSausage&nbsp
;
@drag0nsun&nbsp
;
@MX36&nbsp
; and
@ErwinRommel2016
to be updated throughout the red lokust story arc,
(Red text are links)

Tunes:
Lokust Playlist
Story
Red storm (sickle)
Kalashnikovs move into the sector under the sickle syndicate
Red sky:
after watching Sergey being defeated by us Sasha overthrows her father and leads the syndicate
Red swarm
Sergey regains control of the syndicate
Sasha is exiled from the syndicate
pilots loyal to sasha defeat the black widows, using prisoners from the black widows the "red lokusts" are established
drone silo is developed by the lokusts
Halcyon:
lokusts attempt to take over the sector
many red lokust engineers are stolen off by the player
Red Storm:
The lokusts develop the titan in another attempt to eradicate the player
WildFire
,
having taken some of their territory during the ryu kai invasion sasha constructs her own fire weapon "the inferno" to combat the special forces syle of warfare with ultra tanks as supporting units
Frostbite
:
the relationship between sasha and her father improves and the sickle syndicate comes to the red lokust's aid
Aftermath
a difference in leadership causes arguments between sasha and sergey again
sickle operated factories seem to be operating at much higher than normal during this time
Remnants
the red Lokusts attempt to launch several weapon prototypes, many of which have their schematics stolen by spies from various factions.
kara calls in early members of the survivors to assist in defeating the red lokusts,
The Red Lokusts are left unorganized as the relations between sergey and sasha continues to deteriorate with rumors of a coup forming
Red Exodus:
[
Main
] [
Faction
]
Metamorphosis
:
[
main
][
faction
]
Red Revelation
[
main
] [
survivors
][
corpus
][
sentinels
]
---------------------------------------------------------------
Common bases:
Bastion resource bases.
--------------------------------------------------------------
Traits:
Legacy Unit of Interest
The titan: one of the longest lasting units in the game making use of a huge rocket barrage aswell as a fleet drones
Best taken down by focusing fire on the mothership
*note omega titans are immune to scramble*
Lokust SF Units
A relatively weak aircraft similar to the thunderbolt, but poses little threat to most anti-air capable units
Commando is an anti-vehicle infantry that deals relatively high burst damage and almost always applies corrosion.
Assumed loadout used by the lokusts:
take aim 6 (+24% damage -20% reload)
Heavy ordinance 6 (+30% damage to all -15% speed)
high caliber ammo 6 (+60% damage to all)
AP Rockets (+120% to vehicles +25% to air)
caustic cores(carrosion for 7 seconds + extra splash range)
and maybe press the attack if they arnt normal commandos(+15% damage)
A dangerous Dedicated Anti-Air tank that has a moderate amount of splash,
if using air its best to attack from multiple directions, envoys, or stealth aircraft, however ground units are recommended when combating tempests
a tank that was decent at its time but has grown to be weaker than modern vehicles, as it cant aim upwards air is also viable.
a tank that fires napalm from its front
as it continues to fire its range and damage increases
at 50% health the inferno becomes unstable and possess an aoe around itself that deals a large amount of damage to those inside.
*tech can add a firefly drone that can distract enemy units
*dangerous to infantry
Recommended to use aircraft or long range units such as sharpshooters or drakons to defeat this tank
*spawns a drone every 10 seconds
*drones gun for powerplants
*drones run back to growler and despawn when set to hold position or if the base is out of power plants
*drones self destruct on a retreat order
*armored up mode of -90% damage when first attacked
*melee attack when running over units and buildings
*turret rotates while moving
*Turret ignores walls
Recommended using viral turrets to deal damage to the drones that rush in aswell as a mix of burst to do as much damage as possible in the first shot with sustain damage support while armored up mode is engaged
Scrooge
the scrooge is a modified version of a phantom seen used by Lokusts only in December
unlike the phantom the scrooge runs on a path similar to the siege, cannot be targeted by heavy turrets and drops bombs that look like presents.
Lokusts in the Factions Era
Hermit
anti-ground
Ramping speed similar to a
hammer
.
Estimated hp range: 8.3 mil-11.4 mil
Range:425
*fires 2 shells twice when it attacks (reducing effectiveness of corpus buff)
Can be scrambled
Spawns from War factory WP every 2 minutes
*kited by speeds of 2.2+
Cricket
ground and air
speed estimated ~6
Estimated health range: 950K-1.2 mil
500 range
seen in swarms
5-10 spawn from lokust command centers and labs (see buildings for further info)
can be scrambled
sparrow
*fires rocket
ground
averages roughly 6 rockets a strafing run.
projectiles can be dodges with speeds of 3+, though sparrows will often miss.
speed estimated ~4.5-5
Estimated health range: [not counted exactly but estimated to average 1.5 mil]
415 range (to begin firing but only actually hits directly under itself)
weak to scramble and scattered targets




"

sarancha

"
has 2 modes of fire
1-in base defence it acts as an archangel type unit
2-in a base it turns into a bomber that shows where its bombing
-best to use tracking projectiles on it



-------------------------------
Tech layouts
None yet
---------------------------
Buildings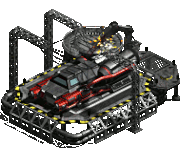 Inferno factory
This is a building that will spawn infernos upon death,
RL "Harvester"
Harbors allied troops that join us when destroyed
"Power Core Reactor"-does nothing but add health to red lokust bases, useful for spawning zombies.
Weapons lab: uses special resources to build the following:
Orbital Hammer (anti-ground)
causes an aoe to spawn every so often, most the time it can be dodged with most units so it shouldn't be a threat.
Tesla Tower (AA-AG)
A bastion that applies scramble to vehicles,
recommended using missiles to bomb this before deploying troops, if not possible infantry are also effective as they are immune to scramble, if it is fortified to where infantry cant get to them roland, andrew or nyx with their anti-scramble can also help
Missile defence tower
A bastion that prevents missiles from being deployed, often placed in the back of a base
RL Laboratories and command center
*labs only spawn 5-10 crickets on destruction.
starting at about 66% health lokust command centers begin to spawn crickets at a rate of 2 crickets a minute.
then under ~10% increases it to 4 crickets every second
sometimes only 1 is spawned before death
then 5 to 10 more spawn on death
(spawning is inconsistant)
theory:
levels 1-5 -under 10
crickets levels 6-9-10 crickets
levels-10-12-crickets deployed before destruction
levels 13-14 crickets always deploying
Faction Boxes: