Howdy Captains!
The time has come for this month's event: Caress of Steel! The Forsaken have continued their push towards The Lost Continent. Greta Spader and Isurus have formed an alliance between the Draconians and The Scourge. There are whispers that there may be more beneath the surface to their alliance. The combined power of The Fangtooth fleets and the Hunter Mk.1 fleets may be too much for the Forsaken to overcome. Event runs from Thursday, October 12th @ 9am PDT to Monday, October 16th @ 9am PDT.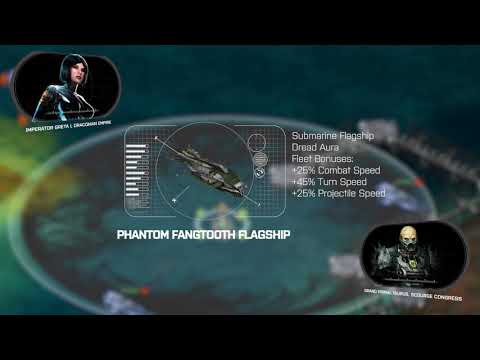 "Caress of Steel" will begin on the following worlds at the following times:
World Alpha: 9AM PDT

World Beta: 10AM PDT

World Gamma: 11AM PDT

World Delta: 12PM PDT

World Epsilon: 1PM PDT
At the start of the event for each world, the following features will be disabled:
Relocation

Sector Threat

Base Parts targets

Gantry and Foundry targets

Daily Campaigns

Friends lists limited to 10
These features will become disabled at the start of the event for their respective worlds. For example, at 9am PST, relocation will be turned off in World Alpha but will be available for all other worlds. However, you cannot relocate to World Alpha once relocation has been turned off for that sector.
Goals
Caress of Steel is the first event in the Sacrifice and Decay event cycle. Targets include Scourge Blockades that include Scourge Sentry Ships, Daggertooths, Electric Eels, and Goblin Sharks. These are tuned for Fangtooth and Hunter Mk.1 fleets.
Targets
Scourge Blockade are classified by Tier (Tier 5; Tier 4; etc).
Targets are not cooperative.
Tier 7

Limited to Tier 6 Hulls

For Fangtooth Depth you will be able to bring a Tier 0.x (any 0.something) or Tier 1.x (any tier 1.something) hull as a flag ship. Such as a gunboat.

Very difficult targets with high payout of points

Specific Fangtooth and Hunter Mk.1 Targets will be available in the Campaign Menu

Tier 6

Previously labeled "A set"

3 targets in set (81, 83, 85)

Recommended: Fangtooth and Hunter Mk.1

Tier 5

Previously labeled "B set"

3 targets in set (61, 63, 65)

Recommended: Ranked Tideseeker Fleets

Tier 4

Previously labeled "C set"

1 targets in set (45)

Recommended: Tiger Shark Fleets

Blitz Target

10x Blitz Functionality

Level 89

Recommended Hull: Fangtooth / Hunter Mk.1

Will pay out ~800,000 points

Blitz minimum of 5 gold

Level 69

Recommended Hull: Ranked Tideseekers

Will pay out ~125,000 points

Hit down multiplier applies

Blitz minimum of 2 gold


Point Payouts Per Target
Each target is worth a maximum number of points, as noted below. Completing a set will award a completion bonuses.
Tier 4:
45 - 40,000
Tier bonus - 20,000
Tier 5:
61 - 130,000
63 - 190,000
65 - 280,000
Tier bonus - 400,000
Tier 6:
81 - 500,000
83 - 600,000
85 - 750,000
Tier bonus - 1,850,000
Tier 7:
Fangtooth Depths - 4,000,000
Hunter Bay - 4,000,000
Set Bonus - 4,000,000
Blitz Tier 6
89 - 800,000
Blitz Tier 5:
69 - 125,000
You can track your completion progress in the Event modal.

Defeating a target will mark the completion in the modal.

Continuous target completions will count towards future set completions.

Once a set is complete, the modal will clear and reset with previously completed targets marked in the modal.

Hitting targets that are below your recommended level will result in fewer points. This does not affect the completion bonus for a finishing a set.

Use the Locator to find targets of all Sets or specific Sets.
Uranium
Sector Threat will not be enabled during the event however you may earn Uranium by reaching certain points thresholds.
Points earned Payout
150,000 800
500,000 1,500
2,000,000 5,000
5,000,000 10,000
10,000,000 20,000
Zoe's Man-O-War
A level 99 target that begins spawning on Saturday will also have a Uranium payout (~42k) upon completion. This target is not worth any event points but may be completed for a Uranium payout. This target will begin spawning on Saturday at noon and continue to regularly spawn hourly throughout the rest of the event. These targets will spawn near Nav Relay towers.
Prizes
Apex Hunter - Hunter Flagship
Phantom Fangtooth
Zelos CTX
Courage
| | | | |
| --- | --- | --- | --- |
| Left Track | Price | Right Track | Price |
| Torpedo Tubes | 8,000,000 | PBX Payload | 6,000,000 |
| Delirium Torpedo | 12,000,000 | Houndstooth Depth Charge | 9,000,000 |
| Fangtooth | 20,000,000 | Hunter MK-1 | 15,000,000 |
| Hellwraith | 2,000,000 | Tideseeker | 2,000,000 |
| Fire Twister Torpedo | 1,000,000 | Garwood Gatling Gun | 1,000,000 |
| Sealed Fire Charge | 400,000 | Advanced Concussive Payload | 400,000 |
You will need to redeem either Torpedo Tubes or the PBX Payloard to open the Locked Store. If you already own both Torpedo Tubes and the PBX Payload you will have access to the Locked Store already.
Locked Store
| | | |
| --- | --- | --- |
| Name | Price | Redeems |
| Hellstar Shard x5 | 2,000,000 | 4 |
| Ghostcrawler Shard x5 | 2,000,000 | 4 |
| Man-O-War Shard x5 | 2,000,000 | 4 |
| Proto-Nemesis Shard x5 | 2,000,000 | 4 |
| Caedes Shard x5 | 6,000,000 | 5 |
| Phantom Fangtooth Shard x1 | 4,000,000 | 10 |
| Phantom Fangtooth | 40,000,000 | 1 |
| Charged Zynthonite Armor C1-CT | 8,000,000 | 10 |
Normal Store
| | | |
| --- | --- | --- |
| Name | Price | Redeems |
| Ship build - 1 hour | 140,000 | 10 |
| Ship build - 12 hours | 1,850,000 | 4 |
| Ship build - 24 hours | 3,500,000 | 3 |
| Zelos CTX Prime | 5,000,000 | 1 |
| Apex Hunter | 40,000,000 | 1 |
| Courage | 4,000,000 | 5 |
| Insurrection Launcher | 4,000,000 | 1 |
| Fission Fuel Node | 2,000,000 | 1 |
| Charged Zynthonite Armor C1-M | 3,000,000 | 5 |
| Charged Zynthonite Armor C1-X | 3,000,000 | 5 |
| Harlock's Tideseeker | 4,000,000 | 1 |
| Phantom Hellwraith | 4,000,000 | 1 |
| Zynthonite Armor D5-SL | 3,000,000 | 5 |
| Gale Defense System III | 4,500,000 | 10 |
| Hydraulic Resistors | 2,000,000 | 5 |
| Elite Countermeasure Turret | 4,000,000 | 5 |
| Epic Cataclysm Mortar | 4,000,000 | 5 |
| Cannibal Wendigo | 4,000,000 | 5 |
| Tideseeker 1-day build token | 1,750,000 | 10 |
| Hellwraith 1-day build token | 1,750,000 | 10 |
| Hunter MK-1 1-day build token | 4,000,000 | 10 |
| Structure Build Token (48 Hr) | 5,000,000 | 10 |
Official Discussion:
here
(<--- Click Link)